1. Host
Chinese Athletic Association
Beijing Municipal Bureau of Sports
2. Co- Host
China Central Television (CCTV)
3. Organizer
China Olympic Road Running Co., Ltd.
Beijing Sports Competition Administration Center
4. Co-organizer
Beijing Municipal Public Security Bureau, Beijing Municipal Public Security Administration Unit, Beijing Traffic Management Bureau, Tian'anmen Square Administration Committee, Beijing Olympic Park Administration Committee, Beijing Municipal Commission of Health and Family Planning, National Olympic Sports Center, Publicity Department of CPC Beijing Committee, Beijing Municipal Commission of City Administration and Environment, Beijing Municipal Transportation Committee of Beijing, Beijing Meteorological Service, Beijing Municipal City Road Maintenance Center, Beijing Public Transport , Beijing Subway Corporation, Beijing Radio Administration Committee, Beijing Power Company, Communist League Beijing Committee, Beijing Sport University.
5. Approved By
International Association of Athletics Federations (IAAF)
Association of International Marathons and Distance Races
6. Race Date and Location
1) Race date: Saturday, September 17, 2016
2) Race Location: Beijing.
7. Event: Marathon (42.195KM)
8. Divisions: Male and Female
9. Start Time: 7:30a.m. September 17, 2016
10.Course
1) Start point: Tian'anmen Square, Beijing.
2) Finish point: the Celebration Square in central area of Scenic Boulevard in the Beijing Olympic Park.
3) Course goes through Dongcheng District, Xicheng District, Haidian District, and Chaoyang District.
11.Rules of competition
1) The competition will follow the up-to-date track-and-field competition rules approved by the CAA and the competition rules of this year's Beijing Marathon.
2) Roll-call: All participants need to arrive for roll-call within regulated time at designated area. Elite athletes shall arrive at the specific roll-call area, which is located at the south of Monument to the People's Heroes at Tiananmen Square, 40 minutes prior to the race start. Elite athletes shall present their original passport.
3) Start order: In the sequence of elite athletes and general athletes (divided in separate zones based on personal result), with 10 meters in-between. Except wheelchair racing athletes need to start on your own zone before gun time.
4) Start: All participants will start at the same time upon the signal.
5) Timing method:
· All participants will use timing chips, which starts working when participants cross the start line.
· Timing carpets are placed at the start line, every 5km point, half point(21.0975km), turning point and the finish line. Participants shall run through each timing carpet during the race. Those who finish within the cutoff time but without complete record from all timing points will not be qualified for final ranking.
· Timing chip is to be released with bib number at Beijing Marathon Expo. No deposit required to get the timing chip.
6) Cut-off time:
For the safety of all participants, traffic control will be operated in different time periods at specific road section. Cut-off time is set at some road sections. After the cutoff time, timing carpet will stop working and public traffic in this section will be back to normal. Those who are unable to complete the respective distance by the cutoff time shall stop racing and leave the course, in case of any dangers. Those who drop out of the race can take event vehicle or take public transportation to the finish line. Chart of Cut-off time can be seen as below: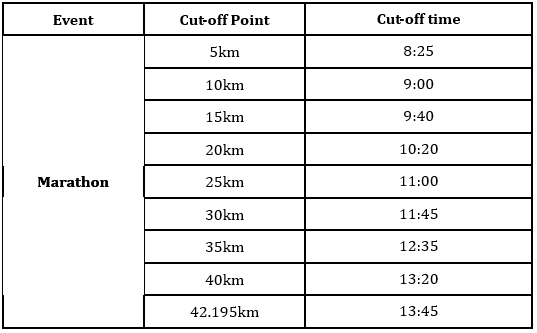 7) Baggage Deposit and Collection: Participants shall deposit personal belongings by the order of bib number at designated area before the start. After the race, participants shall go to respective area for collection. Please do not put valuables in your deposit bag (such as mobile phone, identification document, cash, keys, credit card, iPad, etc.). In case of damage or loss, participants shall bear all the consequences arising. Service of baggage deposit on race day will be closed 15 minutes prior to the race start. Please plan your time accordingly. Baggage collection will be available by 14:45 on race day at designated areas at the finish line. Those who are unable to collect the baggage by above-mentioned time can go to the organizing committee and claim your bag within one week after the race. After this one-week, all unclaimed baggage will be disposed by organizing committee.
8) Water, Energy Drink and Refreshments stations: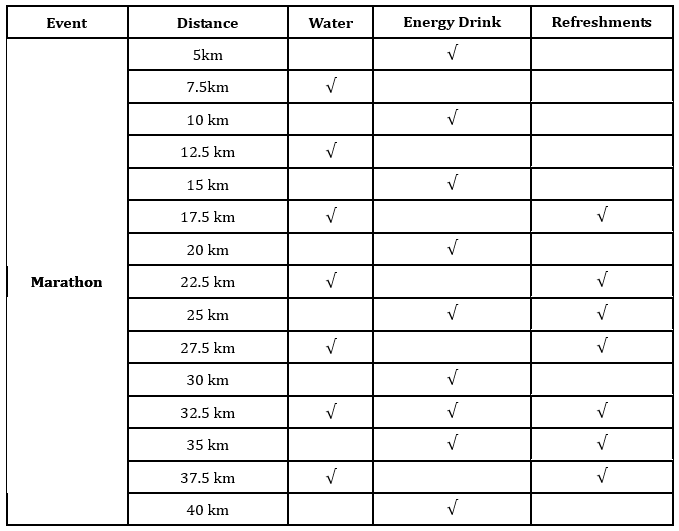 The organizing committee will install portable toilets along the course route.
9) Medical Aid
· Medical aid stations will be set at the start area, each 2.5 km after 5km, and the finish area.
· AED first aid service will be provided along the course.
· Medical aid volunteers will serve at medical aid stations, assisting in medical aid and maintaining race order. Participants can ask help from these volunteers when needed.
10) Doping control will be conducted according to CAA regulations and Rules and Regulations of Beijing Marathon 2016.
11) Other matters relate to the race competition please refer to the Official Program.
12. Registration
· All entrants shall be at least 20 by race day (born in 1996 or before).
· Physical requirement: Marathon is an athletic sport of high load and great intensity over long distances. It is also a high risk athletic sport which has high physical demands on participants. Those who wish to participant in Marathon race shall be in healthy condition, have experience in running and have completed training with distance over half-marathon. Anyone who has any of the following diseases are not recommended to participate:
1.Congenital heart disease and rheumatic heart disease.

2.Hypertension and cerebrovascular disease.

3.Myocarditis and other heart diseases.

4.Coronary artery disease and server irregular heartbeat.

5.Diabetes.

6.Having cold symptoms two weeks prior to the race.

7.Other diseases that is not suitable for sports.

8.Pregnant.
· Registration and Payment:
① Race Capacity: 30,000 entries.
② Registration and payment can be completed at the official website of Beijing Marathon. Details can be found at "Registration Notice" released at the official website.
③ Successful entrants will be notified to check personal race number at the official website.
④ Race baggage pick-up: successful entrants shall go to the Beijing Marathon Expo 2016 to pick up personal race baggage. Details will be released prior to the race at the official website.
· Registration Fees: 50 USD/person
Registration fee is not refundable once the registration is successful and confirmed by the organizing committee.
13. Award Method
1) Ranking Award (USD): Top 8 ma
2) le and female athletes will be awarded: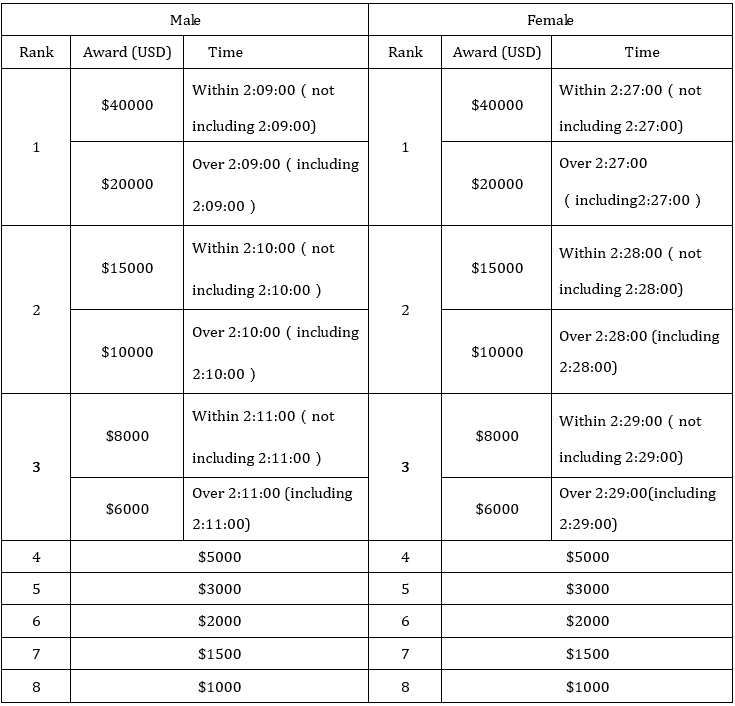 Note: Award is based on time achieved.
2) All above-mentioned awards will rank by gun time. Athletes will be disqualified if they doping test failed, however, the ranking for all will not be changed.
3) All above-mentioned awards are subject to a 20% personal income tax.
4) Top 3 male and female participants will be given a trophy and a medal.
5) Race T-shirt, race bag、 bib number, timing chip and official program will be provided at Beijing Marathon Expo 2016.
6) All finishers can get food and medal before 13:45 according to gun time.
7) All finishers can check results and download finisher certificate on official website 24 hours later of the race. Split time, gun time, net time will be listed in the certificate. Without a complete record from all timing points, result will not be qualified for final ranking.
8) Amateurs Awards: Based on sex and age range (divided by 5 years as an age zone), the Organizing Committee will award the top 3 runners within each sex and age zone. Top 10 runners within each sex and age zone will also be awarded as "Super Hero in Beijing Marathon", and the list shall publish on website after race.
14. Punishments
Video are monitoring on the entire race course. Runners will be punished as disqualification from the race immediately, barred for race for 1 – 2 years, barred for life and Chinese Athletics Association may put additional punishments if runners committed any of the followings:
① Misrepresentation on age when registration.
② Racing with two or more than two timing chips (including one participants carrying timing chip of the other gender).
③ Racing in relay.
④ Not following the start order and start at non-designated area.
⑤ Against the rules when starting.
⑥ Continuing racing after cutoff time or re-enter the course after dropping out of the race.
⑦ Not racing along the course. Shortcut or taking public transportation.
⑧ Crossing the finish line repeatedly or not completing the whole distance but crossing the finish line to get finisher medal.
⑨ Forging bib number or using bib number of other races with timing chip of this race to finish.
⑩ Not following with staff order. Rioters who disturbing the race order.
? Uncivil behavior.
? Other behaviors against the rules.
Consequences arising during the race from enrolling by misrepresentation or transferring entry to another person shall be banned of Beijing Marathon race forever.
15. Insurance
Insurance will be provided to all participants and race relatives. Please read 《Specifications of Life Accident Insurance》 available at the official website of Beijing Marathon prior to the race.
16. Contact Information
· Email: overseas@beijing-marathon.com
· Official website: www.zoowildman.com
· Facebook Page: www.facebook.com/BeijingMarathon/
Further notice will be announced for unmentioned issues.
The organizing committee of Beijing Marathon reserves the right to interpret the regulations.